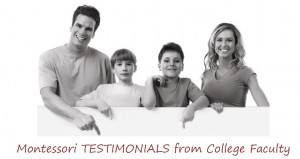 Click here to read endorsements from local college faculty and then take a look below to see what people are saying about us!
If you would like to submit a testimonial please contact Lynn Klein, Director of Admissions at lynn@wvms.org
"Wyoming Valley Montessori is a superb school. My son has learned subjects in such a comprehensive way that he is able to understand and remember advanced knowledge in all subjects. It's more than that though; there is a hands on approach to learning. The children are "in" the learning, and they are participating. They are excited-they see the baby chick emerge from it's shell. They are thrilled, and the knowledge learned becomes part of them. As fast as the children can learn, they are given more. Questions are answered by experience in that subject. It's such an amazing program and school. It is a community that is completely centered around the knowledge and growth of the children in every respect creating world citizens who are responsible, ethical, caring, humanitarian, brilliant, and conscientious."
– Gina Gianetto
---
"What Montessori gave me was a love to learn. The excitement that jolts into me when I know the right answer, or the happy feeling I get when I'm learning something new came from Montessori. The warm people, cozy atmosphere, and unique curriculum made learning a joy, and the knowledge and happy memories that they gave still remains with me."
– Danielle Melnick, WVMS Class of 2008
---
"The Montessori experience and education our children received has fostered a strong sense of self, independence, and love for learning in our kids."
– Drs. Glen and Cari Tellis
---
"My son, Elijah, was a student at Montessori since Pre-School. What a magical, very special place this small school was for my son 'Community' is a buzzword used often these days in education. How many other schools allow parents an open door into the classroom? A school that teaches conflict mediation? A school that encourages the independent pursuit of knowledge? Montessori was a welcoming, warm, and transformational school for my son and his parents.
My son fell in love with science and math at Montessori. Equally important, Elijah learned about kindness and working out conflicts peacefully. In the years since, Elijah, now in middle school, has succeeded, because of Montessori."
– Mr. Chris Miller
---
"Having both of our children graduate from Montessori has truly been a blessing for our family. Cassie and Josh are two different learners and the uniqueness of the Montessori method allowed them both to thrive as individuals. Cassie is a visual learner and tests extremely well. Both of these qualities were fostered at Montessori and allowed her to matriculate and excel at Wyoming Seminary, a highly competitive high school in the area. She will be pursuing a career as an Ophthalmologist. Josh is a kinesthetic learner and performs best academically when he can use his hands.
The concrete to abstract progression at Montessori has allowed Josh to be comfortable in his learning all the way through Montessori. His keen sense of order and technical skills with computers are astounding. We believe the Montessori method is exceptional and proven by the results we have seen with our two children who learn in very different ways."
– Mark and Lisa DiPippa parents of Montessori alumni Cassie '09 and Josh '12
---
"It was a difficult decision to leave Wilkes Barre Academy. My daughter was excelling academically and blending well socially. She was a leader in class.
We were looking for something more. We wanted her to grow up learning the right values in life. Wyoming Valley Montessori School nurtured her the best we could ever hoped for.
She learned a respectful and cordial way of interacting with peers and teachers, she learned a disciplined and self directed way of learning. She learned a peaceful and polite way of working with others as she goes through her daily routine. These constitute what we have envisioned her to be.
What she has become is priceless and she will carry on to be the best that she can be. Mr Danny Klein and Ms Amy Weinschenk taught my daughter what she needed to learn and they prepared her well for middle school. She had a solid academic background and more importantly, the core values to succeed in life.
Angel will continue her junior and senior high at MMI Preparatory School. We are confident that with her strong determination, her positive attitude and the Christian values taught at home and in her CCD classes in St Jude Church, she can tackle the challenge in the years to come.
Wyoming Valley Montessori School gave her an opportunity and Angel responded well and gave her best. She came out a stronger leader in class. We are most grateful for this."
– Dr. and Mrs. Senen Alday
---
"My daughter started 7th grade in a public school after finishing 6th grade at WVMS. After her first science project, her teacher was telling me how impressed he was with the quality of her work. In talking with the teacher, I mentioned that she had come from a Montessori School where they have a very hands-on learning approach. To that her teacher replied, "Well it certainly shows.""
– Mr. Ted and Dr. Judy Kristeller
---
"I have 7 year old twins entering second grade who have been a part of Wyoming Valley Montessori School since Toddlers; I am thrilled with the superior education they have received at every stage. As a 3rd grade public school teacher, I am keenly aware of the demands placed on students and the implementation of a "one-size fits all" curriculum to meet national and state education goals. Students at WVMS exceed all grade-level standards, not only because of the rigorous curriculum, but also because of the exceptional quality of the knowledgeable and caring faculty. The Montessori approach to learning is what all education should strive to be – exciting, hands-on, child-centered, cooperative, and rich in dialogue among the students. When I hear my children use words like awesome, fun, and really cool to describe their days at WVMS, it underscores the knowledge that I made the right choice for their education."
– Carol Hiscox
---
"Wyoming Valley Montessori has proven to be a wonderful choice for our daughter, Reece. The school provides a safe environment that makes learning fun and promotes creative thinking. Reece has made remarkable strides in her first year at Montessori. She has gained a great deal of confidence and is now very independent. It is such a wonderful feeling as a parent to see her so excited about school.
The teachers are very passionate about helping further the children's learning. They are very caring and nurturing, giving a sense of home while at school. We love that they give individual attention to each child, as opposed to standing in front of a blackboard addressing the class as a whole.
We are so pleased with the school we look forward to enrolling our younger daughter next year!"
– Duane and Corrin Fisher
---
"Having three children go through Montessori education from 1994 through 2011, my kids and I learned the most important lesson of life together: the only person we should be competing with is ourself. It is a healthy competition and the only way to reach our full potential. No wonder children are so confident, relaxed, and unique in a Montessori classroom. From the very beginning they learn not to feel pressure from their teachers or classmates because they are not being judged. Montessori education has been the best gift I have given to my three children, now ages 23, 21, and 13, and to myself as a parent."
– Neelam Magan
---
"When my son, Tristan was 2 going on 3, I was looking to put him into school. At the time, there were a few options. The ones I looked at were very traditional in learning. I knew that with Tristan, he needed an environment that he could be exactly who he was & be encouraged to grow into that person. I wasn't looking for him to fit into a school's mold or for his curious personality to be overlooked. That's when I came to look at Montessori. I was beyond thrilled when I watched in amazement how every child was encouraged to learn. It was extraordinary, watching the children interact with one another. They didn't need to sit at a desk or be told what to do & when to do it. Every child moved at their own pace gracefully within the room & had the independence to be who they were.
Three years later, Tristan is in kindergarten & is exactly the person who I saw becoming, when he was just 2. Now my daughter Piper is there & I know I can expect the same! Montessori has given my children a love of learning & independence I know they will carry for them as they continue to grow!"
– Valarie Nat
---
"Dear Wyoming Valley Montessori Friends,
I am writing to thank you for a job well done. A year and a half ago, I set out on a mission tofind a new school for my two children. Twenty years of experience andan advanced degree in education supported the discerning and meticulous list of criteria that I hoped to find in a program. Needless to say, I had a difficult time finding a program that taught outside of a traditional approach. Iwanted a safe, respectful and academically challengingenvironment where my children could enjoy learning intellectually, emotionally, physically, and morally. I searched for a school that would not only teach my children "what" but allow them to discover "how" and "why". I was not willing to accept any program that expected my child to sit compliantly withina row of desks, complete endless quantities of meaningless worksheetsand homework assignments, or participate in the stressassociated with high stakes testing. I am so thankful to the Wyoming Valley Montessori Schoolfor providing an excellent elementary education.
I found that the WVMS was the only program in the Wyoming Valley that was fully accredited by the American Montessori Society. This was important to me because many programs claim to be Montessori-based yet lack essential Montessori components such as teacher certification, specialized learningmaterial, and the appropriate curriculum required for maintaining the integrity of the Montessori approach. Montessori education has been tried and true for nearly 100 years, I was not willing to settle for a watered down version of a classic educational approach. As expected,the WVMS allowed my children to progress at their own pace with the support of two qualified and experienced classroom teachers in a beautiful, respectful, and challenging environment. My children were routinely challenged yet never to a point of frustration.An important connection was made by my eleven year old this year- that the content she wasresponsible for learning had personal value and was not just a means to passing another test.
I am relieved to share that my initial concerns regarding the transition from and back to a traditional school setting are satisfied. I learned, from other parents and local school administrators, that WVMS students are very well prepared and have little trouble transitioning into both public and private schools. I also just received my children's Terra Nova results showing that my children gained over two and four grade levels in reading, in just one year- this is clearly a compliment to your exceptional and committed faculty who served my children, above all, in the capacities of coach, mentor, and friend. Thank you for awakening my children's spirit, encouraging their self-esteem, teaching them self-discipline, and helping them to become independent explorers. Enrolling my children in the WVMS was one of the best decisions I have ever made as a parent and as educator."
– Heather Critchosin